The Grievous Angels have an insatiable thirst for Capture The Flag.
Capturing the flag is what we live for, what we die for. It is a just cause.
For those who fight for it, life has a flavour the sheltered never know.

Welcome to CGA, enjoy our site.

Comments are very welcomed and can be expressed on our message board.
Contacts can be found on the members page.
Please view this site at 1024 * 768 or higher resolution for optimum enjoyment!

Sunday 30 January 2000, 21:30 CET - Savage Cup win :) lose :(
Finally, after a too long off a wait, we could use our new member "K155" and what a fine addition to for CGA he is. The first game started out somewhat slowly but eventually we got our first cap. By then our rhythm started to improve and we really got in control off the game. It was a very enjoyable game :)

The second game should've been like the first except that LD50 switched 2 players. That gave them better quad control and it was the quad that ultimately gave them the game.

We all played very well today. It was great fun and our chances of staying in div 4 have greatly improved :)
That does not mean however everything is done with. Our last match will be very important!

Lord Quake


Wednesday 26 January 2000, 22:15 CET - BW Super Cup
I'd like to announce that we have joined the "Barrysworld Super CTF Cup".

Here are the rules courtesy there official site which can be found here:

----------

Cup - Lasting about 4 weeks each season depending on amount of clans etc..

5v5 CTF

No LPB Limits

No BFG

Rules will be based of Clanbase rules.

Maps CTF1, CTF2, CTF3, CTF5.

Each clan plays 2 x 20 min games on set maps.

Semifinals each clan chooses their map and plays 1 map each. Same goes for the final. the maps for each clan will have to be submitted as soon as the clan knows they are in the semifinals/finals.

A representative from each clan must be in the irc channel at least 15 mins before their game is due, Just incase any problems arise.

In the result of a server crash the time left will be played out. If there is a strong possibility that clans would suffer due to crash the game will be replayed.

In the result of a draw over the 2 maps the clans will play a golden capture on a map the head admin will decide.

Vx timers or any other similar thing is not allowed.

Each clan must submit at least 1 pov demo each.

Swearing at an admin, will result in abuse back :)

If a player jumps clans in the middle of a cup they will not be allowed to play in that season for their new clan.

clans are expected to turn up for every game, If they are unable to make the specified time then a default win will be given.

Hopefully the eventual winners and the runner up clan will play in a mini playoff with clanbase top 2 cup winning clans. (to be arranged)

----------

Times and Dates or still unknown.

I have entered (MonkeyKing did the formality :) our clan especially for those members that don't have the opportunity to play in Savage matches as much as they would like or can.

We need a volunteer to take charge and do the small stuff like select the teams that are to participate.
Please get in contact with me if you feel like doing it.

Lord Quake


Tuesday 25 January 2000, 23:55 CET - Praccy with AFT...
We had a refreshing 2 games with AFT today. Very even matches especially the first game. Hard fought thru out until AFT got the 1st and only cap in the match. After that it was a stalemate to the end.

We decided to change 2 positions for the second game. Yours truly moved to mid and I actually got disoriented at times because mid was new to me :(
This game was fun to play. It was always a 1st cap them then we cap back situation until in the middle part of the game we had some caps in success.
A very enjoyable game and a good fundament for our next matches on this map.

AFT have agreed to play permanently every Tuesdays @ 21:00 GMT with us. This should greatly enhance our game play.

A reminder that we have 2 praccy today:

- Clan FRE @ 21:00 GMT
- Clan AFT @ 22:00 GMT

IRC @ 20:45 GMT. Please don't forget to read the tactics.

Lord Quake


Monday 24 January 2000, 18:10 CET - Savage Matches Canceled :(
So, we where all set to frag on the Q2CTF05b map when the Savage Council announced that all games where called off due to router problems they had. Not sure yet but it looks like we will be playing the map next Sunday. If all goes well we will see our new attacker "K155" fragging on our side :)
We definitely need more practice on this map. Therefore we will have more games on Tuesdays and Thursdays. 2 to 3 hours for each day, be prepared.
Thanks to Mr. Madness for making some shots of his own which I think would be cool to post here. They where taken at the lan party in Switzerland. Enjoy ;)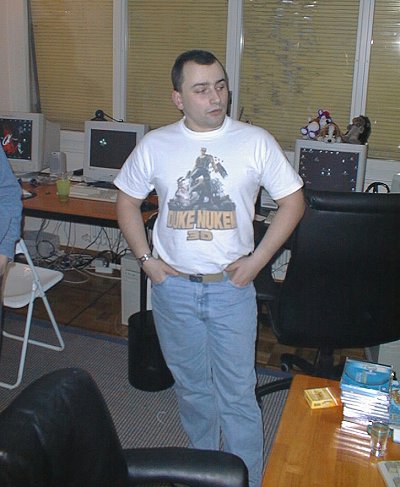 CGA-Taifun - The Dude, The Master, The Boss -> The Host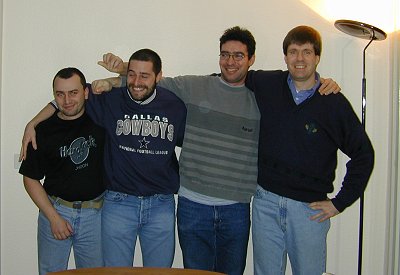 The Brady Bunch - From left to right - Taifun, Ironist, Muadib and yours truly, Lordy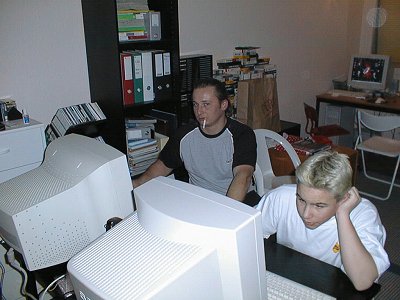 Claffy boy.. eemmm soz... Sir Cl@f (background) had the longest trip coming all the way from the south of France.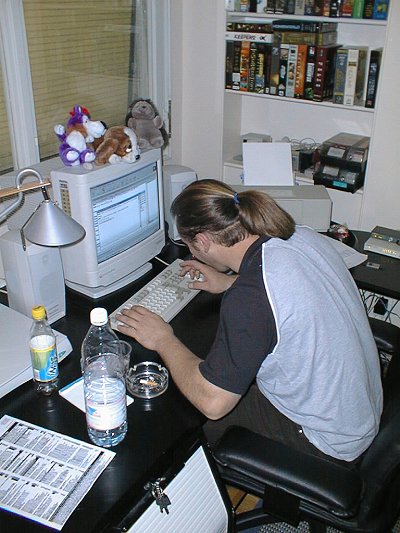 So he was kinda pooped ;) 'Ok "Enter" Key, don't move damn it!'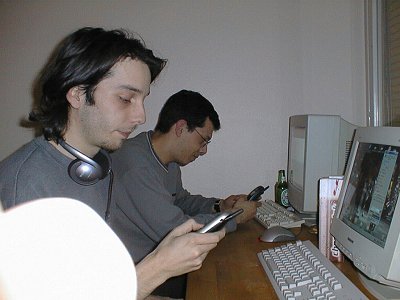 We where still fragging in the pre "Rodger Wilco" era. 'Ok guys, cell phone check!'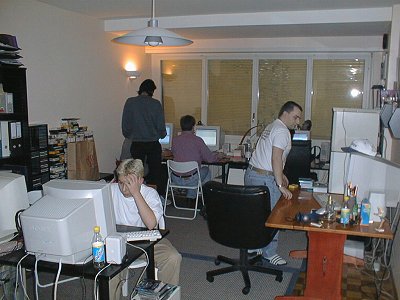 One of the lan rooms. Damn my butt hurt on that chair. I need a pillow next time boss!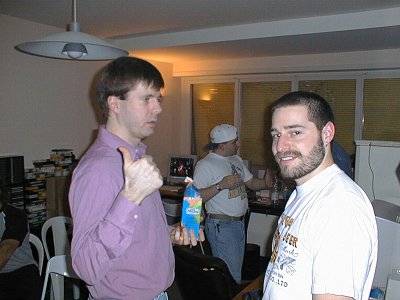 There was some confusion as to where the rest rooms where. 'Ok m8, left door out then the 3rd tree to your right ;)'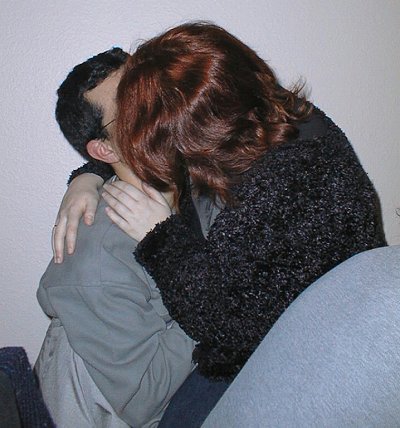 hhhmmmm, some of us were not very focused cause the ladies got bored at times and needed some friendly fire ;) Yours truly wasn't that lucky :(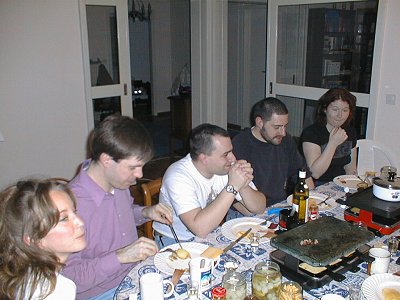 Obviously you sometimes need an energy break and our host's didn't disappoint in that area!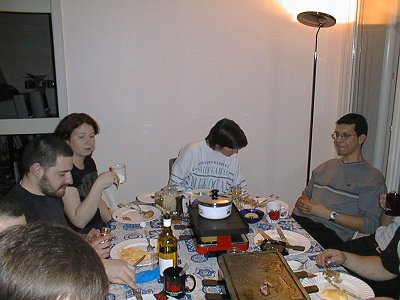 We had raclette this night with special Swiss cheese.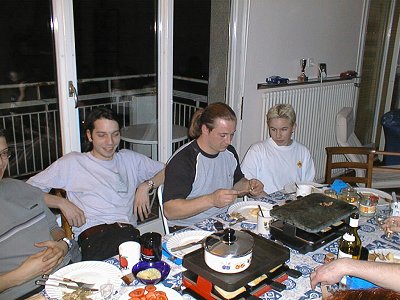 The food was excellent!


One hell of a view from our host's balcony!

I would like to thank Sucub and Taifun for a wonderful time we all had! I personally am looking very much forward to having another clan gathering like this one! Thnx guys!

Lord Quake


Sunday 16 January 2000, 03:50 CET - LAN Fragout! :)
Well, the lan party here in Switzerland got off to a rocking start. More or less started fragging right after I walked thru Taifun's door who is kindly hosting this event. Playing till 6:00 in the morning is something that one has to get used too ;)

Now for your pleasure viewing head over to this link live cam to view the action live from the lan party here in Switzerland :)

The Lanparty is going on just splendidly. We are all having a ball. Never knew people could drink so much Heiniken beer. Even yours truly couldn't resist a taste (yuck) of mans favorite breverage.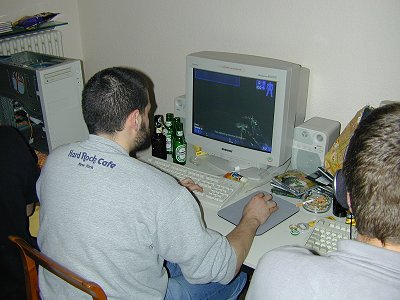 CGA-Ironfist - The dude can play! surprise surprise ;)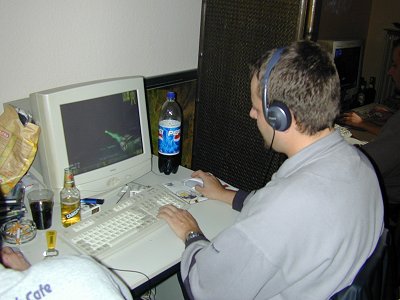 Corinyelm - This m8 just couldn't get Q3A to run in the lan. We tried everything but to no avail.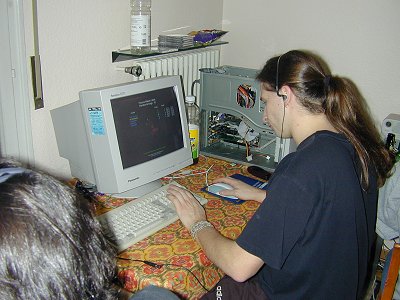 Mr. Madness - Finally got his ATI Rage (git) working. Never can keep his butt on the chair when strafing ;)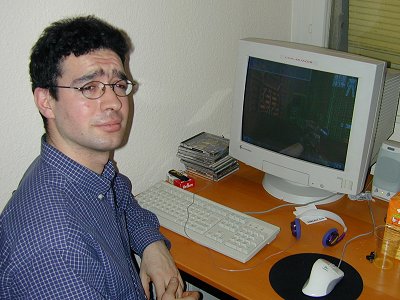 CGA-Muadib - The poor sucker couldn't sleep cause he is so axious to frag some ;)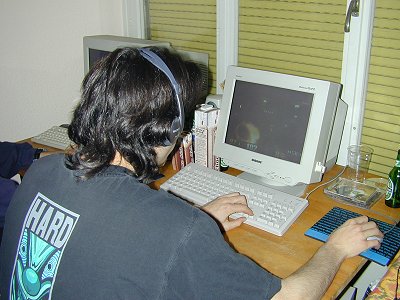 Otaku - The silent one - Has this urge to walk the dog all the time and smoke a joint ;)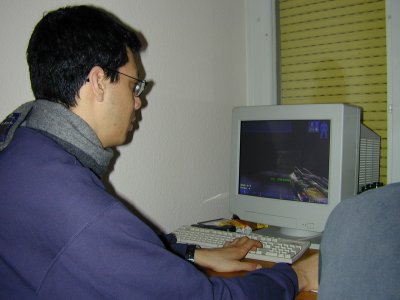 Insector - The back stalker, can never face the enemy head on in battle.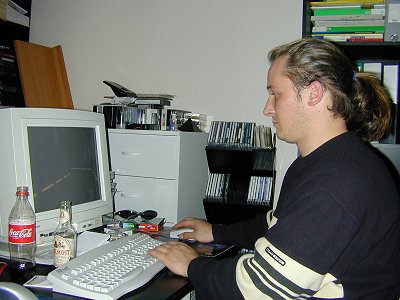 CGA-Cl@f aka Sir Cl@f - I'm being held at gun point :(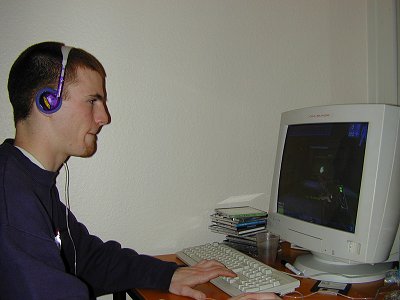 Tzeentch - Don't move, don't talk, don't even breath or your a fragged bloke!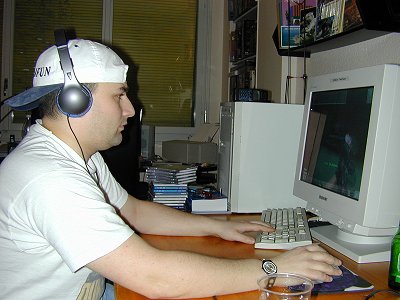 CGA-Taifun - Our host and mentor. We get bread and water everyday ;)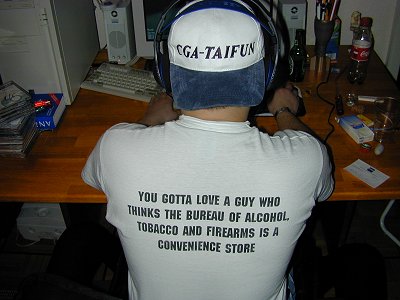 Taifun is quit sensitive when it comes to laws banning firearms!

This pic needs no introduction. Yours truly in the middle off the act ;)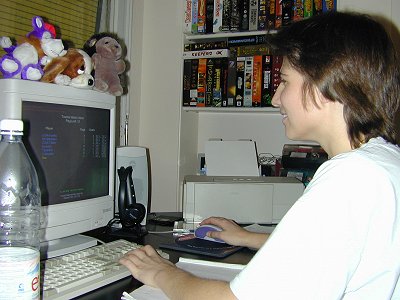 [CTFr]Sucub - Our lovely hostess and one of the few female quakers in our community!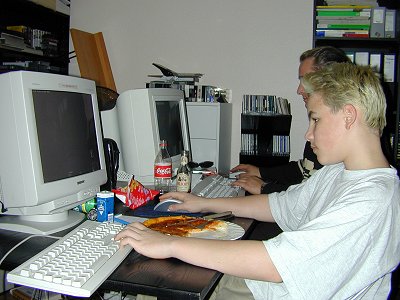 [CTFr]H-worth - The youngest brat amongst us. Is able to use a mouse while simultaneously shouting "cochon"

Lord Quake


Sunday 09 January 2000, 12:55 CET - Savage match lineup.
OK, we have a very hard savage match against clan QID today. We are in a must win situation guys, so lets give it our best.
Make sure you all have read the tactics. It's very important that people hold their positions on this one else we'll get thrashed.

Players for the match are as follows:

Player1 - LordQuake
Player2 - Taffy
Player3 - Claf
Player4 - Taifun
Player5 - ObDeath
Player6 - Dillinger
Sub - Qrush, MonkeyKing

Please read the tactics.

Good luck to you.

Just a reminder that we play NKO at 15:30GMT. All savage players must attend!

Lord Quake


Monday 03 January 2000, 18:30 CET - CGA's future :)
There have been a lot of discussions going in lately about the future of CGA. I have, for some time now, been thinking on the next move we should take to have more diversity within the clan. I have noticed that some of you have been enjoying 2 new team games out there, UT and Q3A.

I beleave having another game mod integrated into the clan would motivate and make the clan stronger. You, the member, will decide what mods CGA will be playing in the near future. If feel however that we should not commit to more than 2 games. Adding another game to the clan will however bring more work with it. Therefore I have decided that the following points have to be taken into account before we decide on the direction CGA will take.

Assuming we decide on 2 games:

- 1 leader for each mod.
- 2 redundant minimal teams for each mod (depending on the schedules)

The games that we will have to decide on are:

- Quake2
- Quake3Arena
- Unreal Tournament

Possibilities would be:

- Quake2 only
- Quake3Arena only
- Unreal Tournament only
- Quake2 and Quake3Arena
- Quake2 and Unreal Tournament
- Quake3Arena and Unreal Tournament

Please head over to the polling station and summit your vote on the future of CGA :)
Also please post your comments on the thread "The FUTURE".

Lord Quake


Sunday 02 January 2000, 19:00 CET - Savage Cup lose :(
Savage Cup didn't go as planed for us today :( It was a match LPB's v HPB's without looking for excuses.
Nevertheless, we tried our best. Nice try all.

The teams for the Savage Cup have been drawn. We will be playing against "Aftershock" this afternoon at 4PM GMT. The game will be on q2ctf5 with no Techs, One game lasting 20mins .. Once Round One is complete the Draw for Round Two will take place at 5.30 with Round Two starting from 6pm. Please show up on IRC at 3:30PM GMT. We will then sort out who will play in the match. Please read the tactics for CTF5 if you haven't already. Lord Quake


Saturday 01 January 2000, 14:00 CET - 2000 has arrived :)
I hope everyone got thru the millenium ok. I hear ObDeath is being held in the local jail house to sobber up but it has yet to be confirmed ;)
The servers seem to be running as if nothing happened and the scripts on the clan page also jumped to 2000 :)

Savage matches will continue next Sunday. In the meantime they have setup a Savage (fun) Cup scheduled for Tomorrow. I have entered CGA and we will be playing our game on CTF5. We have a practice session this evening with LD50 to prepare for the event. I hope we can get 6 players together. These players will then play on Sunday.

Best wishes for the new year to everyone. Lets try our best to stay in div 4 huh guys :)

Lord Quake


© Leo Nutz aka Lord Quake - This page is copyrighted. You may NOT bla bla bla... well, read below ;)
Clan Grievous Angel News Archive

All rights reserved. All pages Copyright © 1999 by Leo Nutz aka Lord Quake
Copyright of all documents belonging to this site by Leo Nutz aka Lord Quake 1999.
Most of the information contained on this site is copyrighted material! So don't use it! :)
It is illegal to copy or redistribute this information in any way without the expressed written consent of the author.
The mighty Lord Quake, creator of this wonderful masterpiece, is NOT responsible for any damage that the information on this site may cause to your system ;)